Implosion is one of the most complex and dangerous operations in the construction industry—but with a talented team of professionals, we make it look simple.
Radio Network Building
Christchurch, New Zealand
After the devastating February 2011 earthquakes Christchurch was left with over 1,100 structurally compromised buildings. Ceres professionals saw implosion as a valuable methodology for some structures but the country of New Zealand had never before allowed the implosion of facilities.
Working in concert with experts from U.S.-based Controlled Demolition Inc., and the Canterbury Earthquake Recovery Authority (CERA) to develop a protocol and regulations for this method, Ceres was selected to manage the first-ever implosion in the country on the 14-storey Radio Network Building. It was a perfect candidate due to its remote location and structural design.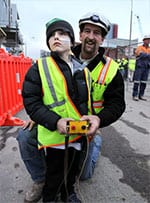 Ceres used the opportunity to raise funds for local charities by auctioning off the opportunity to push the button. The honor was ultimately bestowed on a six year old boy who had been diagnosed with cancer. In less than seven seconds, the building safely fell just as planned to the amazement of thousands of Kiwi residents.

Implosion of the Radio Network Building in New Zealand.
In 2012, we completed nearly 30 major projects in New Zealand, including the nation's first-ever sanctioned implosion.