Flooding
often accompanies a major storm event like a hurricane or large rain event but can also be a natural occurrence after spring thaws. Floods are generally predictable but require an immediate response. Ceres has mobilized both prior to floods to help mitigate their impact and in post-event situations to remediate damage after waters have receded. As both a construction firm with heavy civil equipment for levee building and a disaster response company, Ceres has unique flood fight and recovery capabilities.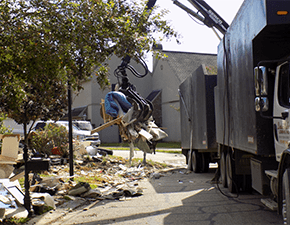 Case Study: Livingston Parish, LA
Ceres responded to disaster recovery needs in Livingston Parish after summer floods caused severe damage. Heavy rainfall began Friday, August 12, 2016 in Louisiana, with areas reaching almost three feet of rainwater, causing local rivers to reach historic flood levels. Areas in South Louisiana were affected most. In the middle of disaster recovery, Hurricanes Hermine and Matthew hit the U.S. coast within a month of each other. Ceres extended its services to respond to the needs of more than 20 additional jurisdictions while fulfilling all contractual obligations in the Parish. Ceres and 22 subcontractors cleared the heavy flood debris for over nine months – citizens that had left or moved were given time to come back and clear their homes. It has been reported that more than 146,000 homes were lost because of the floods. Ceres removed and disposed of approximately 1.35 million cubic yards of debris, including 400,000 pounds of putrid food and 20,000 units of white goods. There were no reportable safety incidents during the nine-month project.