Earthquakes can pose very different problems than other natural disasters for citizens and public officials.
Although seismic disasters do not generate as much vegetative debris as hurricanes, massive problems including extensive structural damage to buildings, soil liquefaction, water and sanitary system destruction, and road/bridge buckling and collapse are common. These events require a quite specific set of talents, experience, and equipment to assist in the recovery.
Ceres has very recent and relevant experience with major earthquakes:
Republic of Haiti (Jan 2010) This country suffered a massive 7.0 magnitude earthquake with at least 52 aftershocks measuring 4.5 or greater, destroying large sections of Port Au Prince.
New Zealand (Feb 2011) The city of Christchurch was jolted by a 6.3 magnitude earthquake resulting in the highest Peak Ground Acceleration ever recorded (2.2g). The earthquake caused the loss of 90 percent of the central business district properties, destroyed 12,000 homes and damaged another 100,000 homes and most of the underground infrastructure.
In both cases, Ceres responded by containerizing and shipping specialized equipment immediately following each earthquake to assist in the recovery effort. We have since established affiliated companies in each country.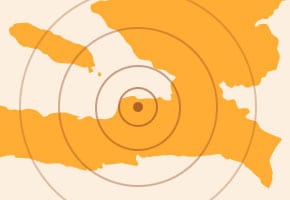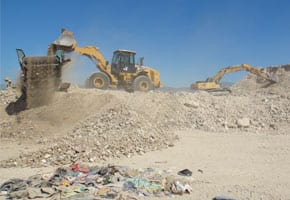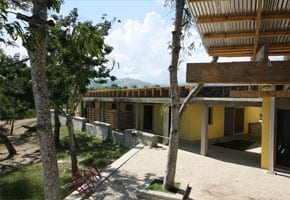 Case Study: Haiti
In 2010 after a devastating earthquake hit in Haiti, Ceres immediately deployed heavy equipment, building materials and expertise to assist in the reconstruction of the country. Our efforts continue to this day with infrastructure projects that employ the local population and improve the lives of the Haitian people.
Debris Management
Ceres executed multiple contracts for both governmental agencies and NGOs to move debris from affected areas.
Migration Tracking System
Ceres was contracted to survey 1,760 temporary camps that hosted over one million victims of the earthquake. Using over 300 Haitian and U.S. employees, Ceres established a census system including demographic data (e.g., gender, age) of those in the camp, GPS geo-tagging information and continual monitoring for each camp.
Landfill Management
Ceres worked with The World Bank and the government of Haiti to take over management of the Truitier Landfill, one the largest in Port Au Prince. Employing over 200 Haitian nationals, our services included solid waste management, debris management, salvage and recycling operations, rock crushing and screening, environmental remediation and process control.
Environmental Remediation
After a Cholera epidemic swept the country, Ceres worked with the government of Haiti and a well known NGO to decommission and sanitize large excreta pits and develop a cost effective treatment system.
Building Construction
In collaboration with WorldVision, Ceres constructed the Hinche Center for Learning. In addition to constructing a strong facility using local labor and U.S. techniques, Ceres constructed and donated an access road and a permanent water well for the community.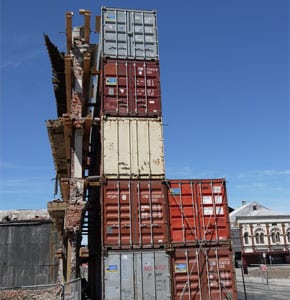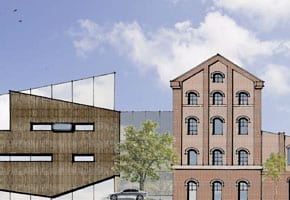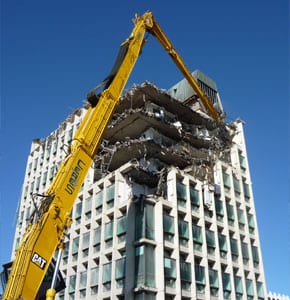 Case Study: Christchurch, New Zealand
In February 2011, Christchurch, New Zealand, a magnificent English settlement on the eastern shore of the south island, was rocked by an unprecedented earthquake. Although measuring only 6.3 in magnitude, the quake inflicted damage to the city far beyond what was thought possible. Peak Ground Accelerations of over 2.2g in the vertical direction threw buildings into the air and pulled them back down at twice the speed of gravity, causing global failure of several buildings and damaging countless others beyond repair.
Ceres teams were on the ground within two days conducting aerial observations to determine the damage and assess the response needs of the city. The demand for specialized demolition equipment and skilled personnel led Ceres to assemble an elite team of high rise demolition crews to assist the city with the most critical of building demolitions.
Today, Ceres New Zealand has grown to a staff of more than 20 full time employees plus a work force to meet our project demands. Adapting to the changing market needs in the post disaster environment, Ceres established a comprehensive team with a broad range of expertise in:
Seismic Retrofit
Our team of construction professionals combines extensive experience in seismic retrofit of buildings throughout high-seismic zone areas such as Northern California in the United States with on-the-ground familiarity of New Zealand construction practices acquired through assessing 900 buildings and 10,000 homes in the earthquake's aftermath.
Ceres provides full engineering design schemes for seismic retrofits of existing buildings including assessment, geotechnical testing, design options, cost estimating, construction documentation, and professional construction management.
The Antigua Office complex is comprised of 20 unit-titled commercial office spaces in a U-shaped structure. Ceres has purchased the complex and plans to seismically retrofit the building to 100% Code compliance.
Heritage Restoration
Ceres made a significant investment to purchase The Peterborough building in Central City Christchurch. Once slated for demolition, Ceres now has plans to fully restore the complex, thus retaining one of the most pristine examples of heritage construction in Christchurch.
Facade Retention
The main structure of the Excelsior Hotel was damaged beyond repair in the 2011 earthquakes however, the front facade was of great heritage value to the city and Ceres was contracted to retain the facade during demolition of the building. Through innovative engineering solutions, Ceres successfully retained the heritage facade while safely removing the structure behind.
Design-Build Construction
Ceres is currently working with owners and developers as a construction manager to plan the future of Christchurch. Planning projects for redevelopment through progressive design-build models allow owners to fast track their projects and get the city back to its pre-disaster state.
Demolition and Deconstruction
To date, Ceres has completed over 50 building demolitions and deconstructions in NZ. Projects include buildings ranging from 15 stories to single-story houses and use of techniques such as implosion, cut and crane and mechanical demolition. Ceres is an industry leader in high rise demolition and continues to support Christchurch with its demolition needs.
Commercial & Residential Construction
As the rebuild ramps up in Christchurch, Ceres is looking for new and innovative building techniques to use in New Zealand. Teaming with international companies to bring the newest technology in structural steel buildings, geotechnical remediation and urban planning, Ceres is at the forefront of the rebuild efforts.