Ceres owns, operates, and maintains one of the largest inventories of disaster recovery equipment in the industry.
Ceres currently has access to more than 1,000 pieces of equipment through contract with its wholly-owned subsidiary Ceres Environmental, Inc. Equipment includes tub and horizontal grinders, excavators of various sizes, loaders, bulldozers, custom-built knuckle-boom loaders, and numerous other pieces of support equipment.
In addition to our own fleet of equipment, Ceres enjoys long-established working relationships with subcontract firms throughout the United States and its territories. These relationships provide us with the ability to rapidly expand and contract our equipment and personnel needs based on the specific requirements of each given project. We have rapid access to thousands of pieces of additional equipment, including debris handling and reduction equipment, hauling vehicles, bucket trucks, cranes and other specialized and heavy equipment.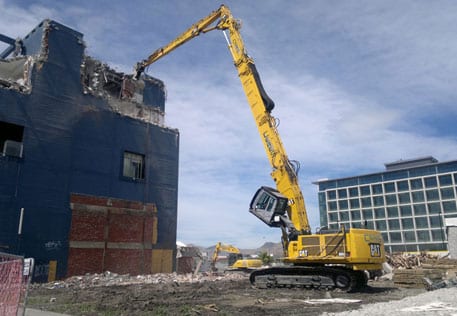 Some of our Specialized Equipment…
Self-Loading Debris Trucks
GPS Equipped Heavy Equipment (Dozers/Motorgraders)
Mobile, Hurricane Proof Command Centers
Ticket Tracker IT System
Satellite Communications
Debris Monitoring Stations
Side Dump Trucks
Live Bottom/Walking Floor Trailers
Beach Cleaners
Specialized Watercraft for Debris Removal
Demolition Equipment:

CAT 385 Ultra High Reach Demolition Excavator
Labounty MSD100R 21000 Pound Demo Shear
CAT MP20 Processor
Genesis GPD900R Shear
RexWorks Megagrinder
Horizontal and Tub Grinders (CBI, Diamond Z)
Rubble Master Concrete Crusher
Sandvik Concrete Crusher
Air curtain burner
Powerscreen Warrior 1800 Screening System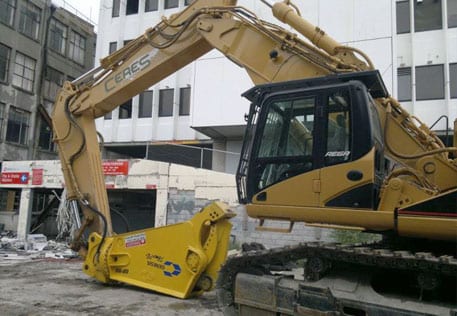 Ceres employs support personnel to maintain owned and leased equipment.
Our field support personnel are supplied with mobile service vehicles and parts storage containers that can be strategically located to maximize our effectiveness. In order to keep our fleet in the field we maintain operational records on all equipment leased or owned. Those records are part of an automated preventative maintenance system that includes service records, repair history, spare parts inventory, technical manuals and electronic document capture.